Books

"This is a delightful, practical, well-written, sensible, and easy-to-follow book…about living with cats and enjoying them."
--John E. Saidla, DVM, Director of Continuing Education, College of Veterinary Medicine, Cornell University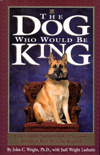 In these witty and entertaining stories about misbehaving dogs, John C. Wright, Ph.D., one of the country's top behaviorists, takes you with him on his rounds to show how he helps beleaguered dog-lovers come to terms with their misbehaving pets.

"
Ain't Misbehavin'
starts where some trainers and veterinarians leave off, offering sensitive, effective solutions to pets' behavioral problems. Dog and cat lovers will encounter lots of entertaining situations and find plenty of useful advice to help them forge happy and rewarding relationships with their favorite animals."
--Dr. Joyce Brothers